Death To All Rodent Kind!
I'm off to PA for the weekend, to kill rodents on this wonderful Memorial Day holiday. I will celebrate this redneck holiday like every other redneck, with a gun in one hand and a brew in the other, well a root beer anyway. My grandparents have a cabin down there, and to keep the place nice and vermin free, I must shoot some chipmunks, and the occasional porcupine. Meet my friend Max, the 4th brother of the famous Chipmunks. That's right 4th brother, but Alvin convinced him to go after a peanut in a friendly trap, and he never got adopted by David Seville. He escaped death by chewing through the plastic for 21 days, half dead and striving he crawled out of the trap. He may of got a second chance at life, but he will meet his match this weekend.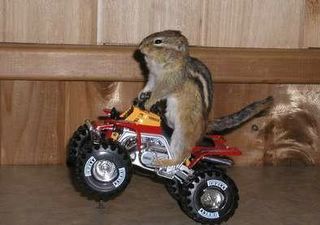 Max the stunt chipmunk!